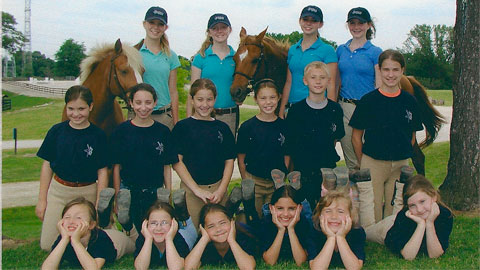 Is your child 'Horse Crazy'? Then Baskin Farm Camps provide a perfect summer activity! We offer a great opportunity for children to spend the entire day with horses. Campers learn hunt-seat (English) riding as well as proper care of horses and riding equipment. Our experienced staff provides quality instruction with an emphasis on safety and sportsmanship.
Six one-week sessions are being offered this summer for campers, ages 7-14. The sessions are designed to accommodate different riding skill levels, from beginner to intermediate.
Each session will begin with an orientation day to familiarize campers with the facility and important safety do's and dont's. Campers will learn how to care for and work safely around horses as well as how to properly use riding equipment. Activities will include:
o daily riding instruction
o demonstration of riding equipment: how the equipment is used and it's purpose
o learning about colors, markings and the anatomy of horses
o games on horseback
o arts and crafts
o blacksmith demonstrations
o horse grooming and bathing
o instructional videos
At the conclusion of each session, parents and families are invited for a camper riding demonstration and party.

Session Schedule
All camps are designed to meet the education and riding needs of each rider (Beginner through Intermediate riders, ages 7-14). During camp, breakout sessions are determined by the trainer as to rider's experience, comfort and safety levels. All camp sessions run from Monday through Friday, 9am to 3pm.
Session 1: June 1-5
Session 2: June 8-12
Session 3: June 15-19
Session 4: June 22-26
Session 5: July 6-10
Session 6: July 13-17

Apparel and Safety Equipment
Campers should wear jodhpurs (riding pants), breeches or sturdy pants (i.e. jeans). Sweatpants or flannel pajama bottoms are not acceptable. Other camp attire includes t-shirts, paddock boots or long boots, (no sneakers) and socks. Campers must wear protective helmets when riding. While we do provide helmets, campers are strongly encouraged to purchase their own helmet to ensure proper fit. We can provide information on the type of helmet and where it can be purchased.

Lunch
Campers should bring a sack lunch and their own water bottle. A refrigerator and soda machine are available for camper's use. Large insulated dispensers of ice water are readily available for all campers throughout the day.

Transportation
Transportation is not provided, however we can provide car pool information two weeks prior to the start of camp.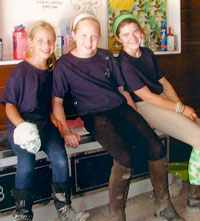 Cost
The fee for each one-week session is $425.00 'Before' and 'After' camp childcare is available for an additional $8/hour/child. Parents must schedule and pay for childcare prior to the first day of a camp session.
Early Bird Special: Camp cost $400.00 if registration and payment received in our office by April 30, 2015.
Make check payable to Baskin Farm. Mail check, Registration Form, Hold Harmless Form and Consent for Medical Treatment Form to: Baskin Farm, 18124 Baskin Farm Drive, Wildwood, MO 63038 Registrations will be confirmed by e-mail.
Session sizes are limited to ensure quality instruction and do fill quickly, so we recommend registering early to reserve the session that fits your summer schedule. Sorry, NO REFUNDS AFTER MAY 15TH.
If you have questions about our Summer Camp, please call our office (636-458-5053) or email us: lessons@baskinfarm.net

Registration
Click here to download our 2015 Summer Camp Registration Form. Mail your registration form and payment in full to: Baskin Farm, 18124 Baskin Farm Drive, Wildwood, MO. 63038.
Necessary forms for riders/campers: Each rider/camper must have a completed HOLD HARMLESS AGREEMENT and a CONSENT FOR MEDICAL TREATMENT form on file prior to the first day of lessons. Download these forms to printout and return to Baskin Farm.

Hold Harmless Agreement | Consent for Medical Treatment of Minor

Space is limited. Take advantage of the 'Early Bird Special': Completed registration form with payment received in our office by April 30th will receive a $25 discount.
If you have problems viewing the registration form or have questions about our Summer Camp, please call our office (636-458-5053) or email us: lessons@baskinfarm.net
If you need Adobe Reader to view the camp registration form, you can download it here.