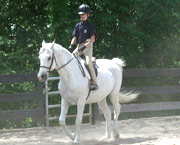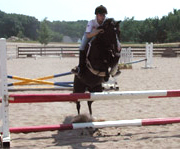 Baskin Farm's Public Lesson Program is parallel to none. Our philosophy is to provide quality instruction by experienced trainers with a focus on safety, horsemanship and individual attention. We provide a safe and encouraging environment for beginner through advanced riders. Ongoing evaluation of riders' abilities allow for advancement at an individualized pace.
Baskin Farm has Working Students who assist riders before and after each lesson, bringing up the horse or pony from the pens to be ridden, helping with tacking up and teaching basic horse care and grooming to beginners. We believe that taking care of your horse or pony is an important part of the lesson program. Caring for your horse or pony before and after each lesson makes each rider feel more comfortable around horses, teaches responsibility and allows the rider to feel closer to their mount.
Our professional trainers help students develop into competitive riders, while honing horsemanship and life skills, such as confidence, motivation, discipline, coordination and focus.
Lessons are by appointment.
Monday the barn is closed
Tuesday - Sunday We offer weekly lessons
To schedule a lesson call Baskin Farm at 636-458-5053
The safety of our riders is extremely important. All riders must:
Wear a helmet. We provide helmets for riders who do not have their own.
Wear sturdy long pants or breeches. (Jeans are OK—no sweatpants or flannel pajama pants)
Wear paddock boots or a hard sole boot with a small heel. (No sneakers).

Prices
Baskin Farm offers both a Lesson Package Plan and a "pay as you go" Individual Plan. If paying for a Lesson Package Plan, payment is due by the 15th of the month prior to the schedule lesson (Example: payment for May lessons is due April 15th). Checks are to be placed in the "Drop Box" outside the Office or mailed to Baskin Farm. Lessons paid for individually must be paid for at the time of service. Lessons may be paid for by cash or check. The pricing structure is below:
Individual and Package Pricing
Introductory Lesson:Includes orientation, grooming instruction, 1/2 hour private 'mounted' session (one rider only), riding evaluation and post consultation with instructor.
$65.00 per hour
Private Lessons: per half hour

Individual payment plan
Package plan:
4 lessons/$215
8 lessons/$415

$55.00
$53.75
$51.86
Group Lessons: per one hour

2 or more riders
Individual payment plan
Package plan:
4 lessons/$140
8 lessons/$265

$40.00
$35.00
$33.12
Barn Rules
Barn Hours are Tuesday – Friday from 9 a.m. to 8 p.m.
Saturday and Sunday from 9 a.m. to 6 p.m.
We are closed on Monday.
1. All children must be supervised by an adult. It is mandatory for an adult to stay with a child during lessons.
2. Sideline coaching will not be tolerated. If there is sideline coaching from a parent or guardian, the student will be dismissed from the lesson. At the end of the lesson, an appointment will be made with the trainer to discuss the matter.
3. Running or screaming in the barn or around the horses will not be tolerated.
4. No dogs are allowed at Baskin Farm. Only staff dogs are permitted.
5. No shorts, tank tops or sandals allowed when riding. The proper attire is paddock boots, jeans or breeches, t-shirts, polo shirts or a sleeveless shirt with a collar.
6. Jumping is only allowed during your lessons.
7. When flatting, please abide by the rules of etiquette. Always pass left-to-left shoulder. People in a lesson have the right of way. Horses/ponies jumping have the right of way.
8. Please clean up your grooming area. Put all brushes back and make sure all saddle pads and towels are thrown in the dirty laundry. Clean up your horse/pony manure. Please clean ALL your tack and put it back on its hooks and racks.
9. Please throw away all trash.
10. Please return your horse/pony to its rightful stall and hang his halter up correctly. If it lives outside, please put it back
Make-Up Lessons for Package Plans
With purchased Lesson Package Plans, make-up lessons must be taken within the month of the lesson missed. NOTE-Failure to reschedule your make-up lesson in a timely manner with your trainer will result in a charged lesson. (Example: If you have purchased a Package Plan for 4 group lessons in the month of May, and need to cancel a lesson, you must make that lesson up within month of May. All lessons purchased in the package must be taken within that month.
Lessons may not carry over into the next billing month.
Cancellation Policy
Cancellations not made 24 hours in advanced will result in a charged lesson. Unless prior arrangements have been made, students who cancel three standing lessons in a row will lose their time slot.
CANCELLATION ACCEPTED ONLY BY CALLING AND LEAVING A MESSAGE ON THE BASKIN FARM OFFICE PHONE: 636-458-5053
Helpful Information
Riders are required to wear ASTM/SEI certified helmets, long pants (Breeches or jodhpurs preferred no sweat pants) and boots with heels (paddock boots/half chaps or tall boots preferred). Please arrive at least 30 minutes prior to your lesson to groom and tack your horse. Following your lesson, you are responsible for grooming your mount, cleaning tack and returning equipment to its proper place. This take approximately 30 minutes.

Baskin Farm Academy Show
Baskin Farm holds an in-house show each year in the fall, solely for people who ride at Baskin. This gives riders who do not otherwise travel to shows to experience participating in a show in a laid-back, fun environment. Show classes are held from walk-trot, to cross-rails, to a costume contest, to 2'6" jumping courses.
Baskin Farm Schooling Shows
Several times a year, we attend local shows in the St. Louis area. If you are interested in showing, please contact your instructor as she can assist you.Click hereto see the Schooling Show calendar.